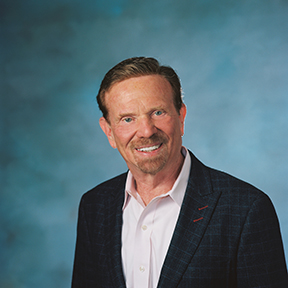 Jack McRobb
Founder & CEO
Jack McRobb started Riviera Hair Replacement in Syosset in 1965, and he has been an enduring figure in the hair replacement industry ever since. As president and CEO, he has shaped Riviera into Long Island's leader in hair replacement.
As a hair wearer himself, Jack has been influential over the years in designing and manufacturing hair systems to meet all hair loss needs. He has contributed his wealth of knowledge to the innovations and the aesthetic development of new products in the hair replacement community.
As a man passionate about his work and dedicated to helping others, Jack offers compassion, respect, and understanding to those experiencing hair loss due to a medical situation. He will strive to ensure your happiness and comfort with Riviera's professional staff and high quality hair systems.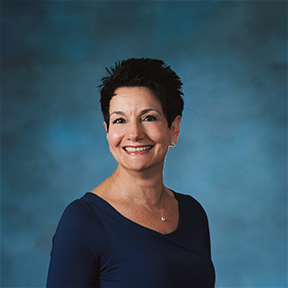 Dolores McRobb
Vice President
As a licensed hair technician, Dolores joined the hair replacement industry in 1989, and she brings years of knowledge and experience to Riviera Hair Replacement. Together with Jack McRobb, she has developed Riviera to the level of professionalism and quality that people have come to know and expect.
A dedicated individual, Dolores has helped support Riviera's professional staff in the development of their skills, which are vital to bringing the best hair replacement service to our customers.
Alexandra
Alexandra has been a technician at Riviera since 2007, and has a multitude of years of experience overall. She is a hardworking and skilled ventilator, with a warm personality and a beaming smile. Alexandra really enjoys working with both the clients and the pieces. She especially loves that every individual task can be different and challenging in a new way. Her job fills her with satisfaction, and the best reward for her is seeing happy customers.
Cathy
With more than two decades of experience in coloring, cutting, and styling, Cathy is a well-rounded stylist who has been with Riviera since 2003. A team player who is helpful to both her coworkers and her clients, she is always ready to lend a hand or to offer her expert advice and knowledge. Cathy enjoys collaborating with consultants to create the perfect piece for her clients. She especially has a love for working with medical clientele, because she believes in helping people feel and look beautiful when they are facing a challenging life experience.
Fran
With her decades of experience as a stylist, and with an expertise in cutting men's hair, Fran has been an integral part of the Riviera family since 2001. Always striving to learn more, Fran has garnered numerous certifications from her years in the hair industry. After working in regular salons at the beginning of her career, Fran wanted to do more with her talents. She found a home in Riviera that let her help clients on a deeper level. She knew she loved being a part of the hair replacement industry on her very first day. Fran is also Riviera's resident early bird, and is always punctual, friendly, and courteous. You can tell from her work and the happy faces of her clients that she takes great pride in her what she does.
Joan
With an impressive amount of experience, and as part of the first graduating class of BOCES in Deer Park, Joan has been in hair replacement from the beginning and has grown up in the industry. She has learned the business from the bottom up, and has witnessed all of its changes over time.
As a member of the Hair Guild, Joan has continued her education through classes and videos, and by keeping current with new techniques, products, and styles. As a team player, Joan is always willing to share her vast knowledge to whoever may need it.
Outgoing and compassionate, Joan loves to work with both her coworkers and clients. She is also an excellent problem solver, and she always enjoys a challenge. Her attention to detail and her superb talent make her one of Riviera's shining stars.
Judy
Judy discovered her love for hairstyling when she was just a teenager. As a graduate from New York's BOCES program, she has been a certified professional since the age of seventeen. She has spent more than half of her active professional years as a valuable part of the Riviera family, joining the crew in 1992. Throughout the years, she has continued her education through different courses and certifications. Judy takes great care in her work, and prides herself on giving each client individualized attention. Her easygoing and caring nature make her a perfect fit for Riviera and its clients.
Leticia
Leticia has been transforming clients at Riviera with her excellent color skills since 2005. She takes pride in ensuring the best possible experience for all of her customers, and has extensive experience with gray coverage, corrective color, cutting, and styling. Prompt and courteous, Leticia finds joy in all aspects of her job, and also enjoys keeping up with the latest trends and innovations through numerous classes and certifications. Not only will she revolutionize your color, but she'll also have you feeling confident and happy in your new look.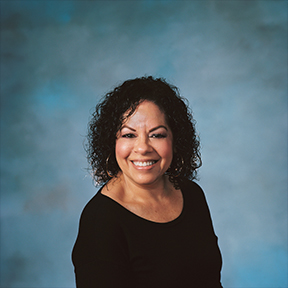 Lori
Upon entering Riviera, you will be greeted by Lori, our friendly and personable receptionist. Our resident lover of all things leopard-patterned, she has been a part of the Riviera family since 2014. With many years of experience and a love of working with people, Lori gets to thrive in an exciting social and interactive environment every day. Outgoing, respectful, and helpful, she is ready to assist you with whatever you may need.